Every two years we organise a World Homeshare Congress to bring homeshare practitioners, policy makers and researchers together to share ideas, learn from each other and establish links. These meetings are particularly helpful for new programmes – and have even inspired people to set up a programme where none existed before.
The papers from these congresses can all be found on our website and make up a a valuable resource for anyone wanting to know how to set up or manage a programme, how to evaluate programmes and much more. So far we've hosted four congresses in Paris (2009), Cologne (2011), Oxford (2013) and Melbourne (2015).
The 5th World Homeshare Congress will take place in Madrid, Spain from 25 – 26 May 2017 court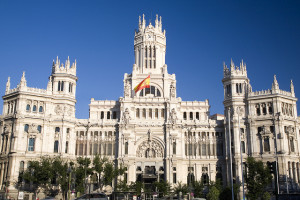 esy of Solidarios. The event will be held in Madrid's wonderful City Hall, the Palacio Cibeles.
The theme of the Congress will be Expanding homeshare, building bridges.
Read more about our next congress here.
Click on the links below to read about earlier congresses and link to the papers given: