This congress took place in Melbourne, Australia from 5 – 6 November 2015, courtesy of HANZA. The theme was Homeshare Ticks the Boxes!
More than 100 delegates from Belgium, France, Germany, Japan, Spain, the UK, USA and Australia examined the role homeshare programmes can play in tackling some of the intergenerational challenges of ageing populations, housing affordability and social and disability services.
The two-day congress featured policy makers, leading demographers, social commentators and homeshare practitioners and participants, including Care Connect's Homeshare 'match' Rose and Olympia (featured in this Age article), and Community Connections ACT matches Sharon and Kate and Melinda and Mary.
Rose (85) told the Congress that for her homeshare was "a God-send. I don't have to give up my treasures – home, friends, family", while Olympia said it had given her the chance to start her life over again.
As part of his official opening address the Hon. Martin Foley MP, Victorian Minister for Housing, Disability and Ageing announced that Victoria would trial the homeshare model in public housing in 2016. World Congress Coordinator and Homeshare Australia (HANZA) Committee Member Beris Campbell OAM described the Minister's announcement as "extremely significant".
"One of the key objectives of the Congress was to convince Australian policy-makers of the value and cost effectiveness of homeshare both as a means of preventing dependency and as a housing solution. The Minister's announcement acknowledges that homeshare offers governments an innovative way to support sustainable tenancies for vulnerable and elderly tenants," Beris said.
Read a review of the congress Melbourne Congress Review Jan 2016
Read more on the HANZA website where you'll also find a gallery of terrific photos: www.homeshare.org.au/world-congress/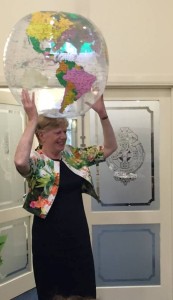 Among many joyful moments in the event, Elizabeth Mills, Homeshare International's Hon Director, handed a huge inflatable globe to Carlos Miguélez Monroy, the Spanish delegate. Spain will host the congress in Madrid in May 2017.