Please join us at the 5th World Homeshare Congress which will take place in Madrid, Spain from 25 – 26 May 2017 courtesy of Solidarios. The event will be held in Madrid's wonderful City Hall, the Palacio Cibeles.
The theme of the congress will be Expanding homeshare, building bridges.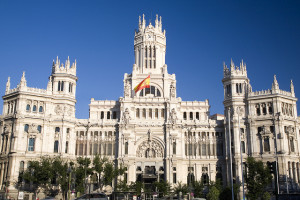 The programme
With plenary sessions and smaller workshops, there is something for everyone in the programme. Our President, Professor Malcolm Johnson and Federico Mayor Zaragoza, formerly Head of UNESCO, will discuss the importance of intergenerational relationships. Respected practitioners including Kirby Dunn (USA), Claire de Kerautem (Belgium), Beris Campbell (Australia) and others will talk about practical issues of running a homeshare programme. Professor Mariano Sanchez who chairs our research group will invite participants to indicate what kind of research would most benefit them. And that's just a flavour!
The Congress will be using both English and Spanish so you can participate in either language.
Call for photos

There is still time to enter our photographic competition. Please complete the online form, which you will find here in English:
http://www.emailmeform.com/builder/form/HUdPGaafozQak00nmd45uf 
or Spanish:
http://www.emailmeform.com/builder/form/wI3aRK7YEP6r99yeXO5g7Db
Linger longer in Madrid …
Madrid is the vibrant capital of Spain and it's a wonderful city for a holiday, with world class art galleries and museums, beautiful public buildings and parks, and fantastic food and street life. It also has ready access by train to other glorious cities such as Toledo and Segovia. If you want to go further into the country, there is plenty on offer, from beaches to mountains, exquisite Moorish palaces to tiny white-washed villages nestled in the hills. For inspiration see www.esmadrid.com/en
How to apply
Visit the congress website and register online – booking is now open.