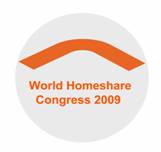 1st WORLD HOMESHARE CONGRESS, PARIS, 3-5 JULY 2009
This section reports on the first World Homeshare Congress, which was held at the College de Notre-Dame de Sion, Montparnasse, Paris (we are grateful to the College for their hospitality).
We were delighted to welcome 42 delegates from ten countries and all enjoyed some very interesting presentations, workshops and informal conversation. The opportunity to meet people who had previously just been a name, and the sharing of information between homeshare programmes was very stimulating, while the contacts made will help everyone to share learning in future.
Feedback from delegates was very positive. Most participants indicated that congress was very helpful to their work.