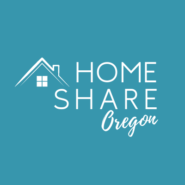 Home Share Oregon (HSO) is a registered 501(c)(3) nonprofit organization that officially began its work in 2021 with headquarters in Portland, Oregon.
Geographical Area served
The state of Oregon, USA
Description
A leader in home sharing, HSO supports homeowners to gain financial resilience and homeseekers to identify affordable housing.
We envision a world in which every person has a clean, safe home, a world where homesharing is normalized as a lifestyle preference, and homelessness is uprooted.
We support Oregonians to homeshare, build community and live overall healthier lives.
We serve Oregonians state-wide through a homeshare application process that is fully online and free.
The mission of Home Share Oregon is to expand access to affordable housing through home sharing. This is a direct way to prevent housing instability, foreclosure, and homelessness.
Hours: Monday through Friday from 9 a.m. to 5 p.m. Pacific time
Contact
Tess Fields, Executive Director
Address
P.O. Box 18222
Portland, 97218
United States

How to donate
Homeshare International is a charity and is dependent on donations to continue its work. Please use the "Donate" button below to make a secure donation.
UK taxpayers can increase the value of their gift by 25% under the Gift Aid scheme –  click here to download a form to complete and return.