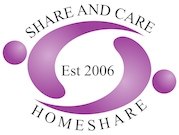 Geographical Area served
London and Mainland UK
Description
Share and Care Homeshare is a Community Interest Company, established in 2006 and is a leading provider of homeshare in the UK. Share and Care Homeshare offers its service nationally across London and mainland UK.
Share and Care is committed to providing an affordable, personal and professional service offering a live-in Homeshare service to older people, families and adults with disabilities. Our Sharers are matched as closely as possible with our Householders to ensure that a friendship and mutual respect can develop, while also ensuring that safeguards exist. We are proud that our clients reward us by recommending us and, whilst we are keen to grow and promote the concept of homeshare across the UK, we are also committed to ensuring that we maintain our high standards of giving personal attention and support to all our clients.
---
Share and Care is associated with Helpful Housemates from Unity Living. A Helpful Housemate is a lodger who is happy to offer a few hours of support to a Host in exchange for paying lower-than-market rent. Helpful Housemates is a new service brought to you by 'Unity Living' sister company to Community Interest Company, Share and Care Homeshare. Helpful Housemates offers a way of finding a lodger with the peace of mind of knowing the person is vetted and happy to help out occasionally.  In an arrangement, the Housemate agrees to check in with their Host from time-to-time, offering a little light help when needed. This might mean lending a hand with the occasional odd-job around the house such as changing a light bulb, helping with grocery shopping, or providing technical support with the computer or phone – a friendly face, who is happy to step in to give ad-hoc support and/or company, for no more than 5 hours per week. For further information please telephone 020 3983 0809 or email  enquiries@helpfulhousemates.co.uk
---
Contact
Amanda Clarke/Caroline Cooke
Phone
020 3865 3398 or 020 8405 6316
Address
Thornton House, Thornton Road, Wimbledon, London SW19 4NG
How to donate
Homeshare International is a charity and is dependent on donations to continue its work. Please use the "Donate" button below to make a secure donation.
UK taxpayers can increase the value of their gift by 25% under the Gift Aid scheme –  click here to download a form to complete and return.