Since 2009, we have partnered with local hosts to organise biennial World Homeshare Congresses bringing homeshare practitioners, policy makers and researchers together to share ideas, learn from each other and establish links. These meetings are particularly helpful for new programmes – and have even inspired people to set up a programme where none existed before.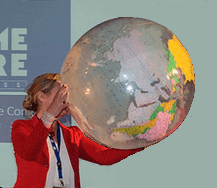 So far we've hosted six congresses: Paris (2009), Cologne (2011), Oxford (2013), Melbourne (2015), Madrid (2017) and Brussels (2019).
The papers from these congresses can be found on our website and make up a valuable resource for anyone wanting to know how to set up or manage a programme, how to evaluate programmes and much more.
Click on the links below to read about earlier congresses and link to the papers given:
Congress sponsorship
We're very grateful to the charities, companies, academic bodies and government agencies that have supported our congresses:
Brussels 2019
Bruxelles Capitale : https://be.brussels/
Visit Brussel : https://visit.brussels/fr
Université Libre de Bruxelles : https://www.ulb.be/
Mutalité Partena : https://www.partenamut.be/fr
BNP Paribas : https://www.bnpparibasfortis.be/fr/index-FR?axes4=priv
Madrid 2017
Madrid City Council (Ayuntamiento de Madrid): www.madrid.es
VIR Laboratorios:  www.vir.es
Melbourne 2015
The Australia Institute: www.tai.org.au
CareConnect www.careconnect.org.au
Carew Counsel Solicitors: www.carewcounsel.com.au
Commonwealth and Victorian Governments: www.vic.gov.au
Community Connections Homeshare: www.comcons.org.au
COTA Victoria: www.cotavic.org.au
DHL: www.dhl.co.uk
lifeAssist: www.lifeassist.org.au
LIME Management Group: www.limegroup.net.au
Lord Mayor's Charitable Foundation: www.lmcf.org.au
Spectrum mrc: www.spectrumvic.org.au
Oxford 2013
Building and Social Housing Foundation: www.bshf.org
Ensemble2générations Foundation: www.ensemble2generations.fr
GB Sasakawa Foundation: www.gbsf.org.uk
Housing LIN: www.housinglin.org.uk
Joseph Rowntree Foundation: www.jrf.org.uk
Methodist Homes: www.mha.org.uk
Oxfordshire County Council: www.oxfordshire.gov.uk
Shared Lives Plus: www.sharedlivesplus.org.uk
Cologne 2011
City of Cologne:  www.stadt-koeln.de
University of Cologne, Bruderhaus Diakonie:   www.bruderhausdiakonie.de 
Elderly Accommodation Counsel (UK): www.eac.org.uk
Follow us on Facebook
How to donate
Homeshare International is a charity and is dependent on donations to continue its work. Please use the "Donate" button below to make a secure donation.
UK taxpayers can increase the value of their gift by 25% under the Gift Aid scheme –  click here to download a form to complete and return.