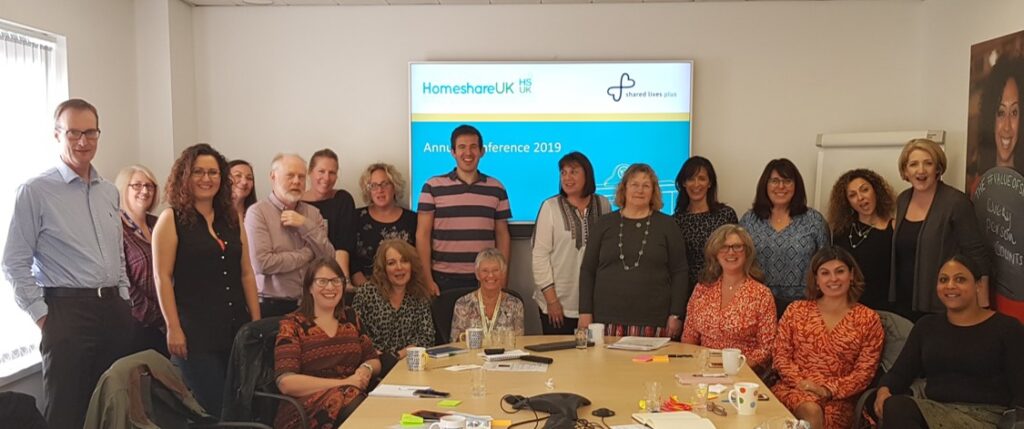 There are 20 Homeshare programmes across the UK.  Homeshare UK is the national network,  It:
maintains an up-to-date list of programmes
provides day-to-day operation support for programmes
brings the network together regularly to share learning and develop good practice and
publishes an annual review of the sector – see the latest Annual Report here
provides a regularly updated  good practice guide for programmes supporting safe and effective delivery of services.
Many of the documents are available to members only but those in the public domain are included in the resources section.
About homesharing in the UK
Homeshare was originally set up to support older people who wanted to remain independent in their own homes.  Homeshare programmes are offered by a range of different organisations, most of which are non-profit but all aim to be self-sustaining and make a charge to both the householders and homesharers to cover their costs. Householders are typically in their 80s, though the ages range from 60 to well over 90. Some of these older people have other helpers or carers, paid or informal, and for some, homesharing is part of a package of support.
Homesharers generally have to be at least 18 years old. Some are mature students but many are working. For them, homesharing offers low-cost accommodation in expensive cities like London.
The programmes are run by paid staff who are responsible for finding and screening potential householders and homesharers and carefully matching them.
A big boost for homesharing in the UK
Since 2015 the Lloyds Bank Foundation and the Big Lottery Fund  have invested £2 million in the development of homesharing in the UK – the biggest-ever financial boost. Working with a number of charity and agency partners they have supported  homesharing to be considered as a viable housing solution to the parallel problems of a lack of affordable housing and an ageing population. Partners include Shared Lives Plus, Age UK, The Foyer Federation and the Social Care Institute for Excellence.
The Homeshare Partner Programme funded a range of pilot projects with new and existing homesharing programmes. It aims to answer key questions about how homeshare programmes can: work best, be scaled up across larger geographical areas, and support participation from  more diverse groups. You can read the evaluation of the programme here (A) Short version of HSPP Evaluation
Homeshare UK is a member of Homeshare International, some UK programmes are also members . They are:
Follow us on Facebook
How to donate
Homeshare International is a charity and is entirely dependent on donations to continue its work. Please use the "Donate" button below to make a secure donation.
UK taxpayers can increase the value of their gift by 20% under the Gift Aid scheme – click here to download a form to print, complete and return